Studio policies printable form
TUITION - Class Fees are due on the 1st of the month. We offer a grace period of 10 days. If payment is made after the 10th a $30.00 late fee will be applied per month. Returned check fee is $40.00.
Dance Attire
Ballet, Lyrical, Contemporary & Pointe – Leotard and light color tights only
Jazz, Tap, Latin -Leotard, sports bra, fitted t-shirt black dance shorts or black leggings.
Acrobatics – Leotard, sports bra, bike-a-tard, black dance shorts or black leggings.
Hip Hop – Fitted t-shirt, sports bra, black sweat pants, black dance shorts or black leggings.
Hair must be secured in a bun or ponytail.
Dance Shoes
All dance shoes must be purchased from JSD only. Please put your child's name in their dance shoes. We cannot be responsible for lost shoes.
Etiquette
Students must be on time for class and not leave early unless you have an emergency or important event. Interruption of class is both distracting to students and teachers. Please do not leave your child 10 minutes before or after class. Do not bring siblings or friends to class we cannot be responsible for children unattended. Students and Parents should always have a positive attitude and keep gossip out of the studio. Everyone is asked to clean and to respect studio property. Water is the only beverage allowed in the studio and no food.
Late to Class
IF YOU ARE MORE THEN 10 MINS LATE TO CLASS YOU WILL NOT BE ABLE TO PARTICIPATE IN CLASS
Attendance
Students are to be on time and present for their classes. It is very vital that they warm up to avoid injury. Please notify the studio if your child will not be attending class. Students must not exceed 5 missed classes in order to participate in the recital. We do not offer make up classes for missed classes.
Achievement Awards
Student must attend full year from Sept-June to be eligible. YOU ARE RESPONSIBLE TO SIGN UP FOR AWARDS WHEN YOUR CHILD HAS ATTENDED JSD FOR 5, 10, 15, 20 ETC. YEARS
Holiday Closings
Halloween Oct 31st, Thanksgiving Nov 22nd-25th, Winter Break - Dec 25th-Jan 1st, Spring Break March 29th-April 4th, Memorial Day May 27th (No make ups for holidays)
Studio Closing
In case of inclement weather, we will be following the Elizabeth School District's decision. If weather worsens later in the evening you should check our voice mail or website. (No make-ups offered on inclement weather closings)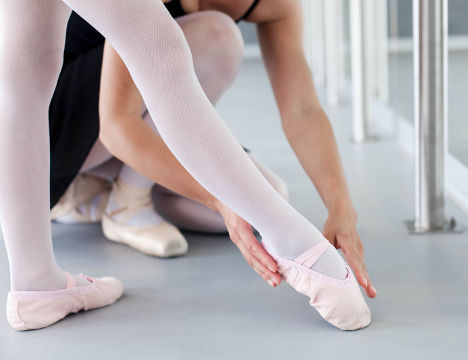 Costumes/Videos/Photos
COSTUMES ARE NON-REFUNDABLE and Must be picked up by JUNE 1st of the current season. We will not hold these items and will not be responsible for them after this date.
Recital
All students are encouraged to participate in our annual recital. This is an exciting rewarding experience when students demonstrate their talents and abilities. Performing on stage helps develop self-confidence, self-esteem and a sense of accomplishment.
Other
All statements, newsletters or any other correspondence will be sent via email. Please update your email address.
WAIVER
Students and their families waive the right to submit claims for any type of injury or illness during dance instruction from owner/director or
staff member of Joann's School of Dance.